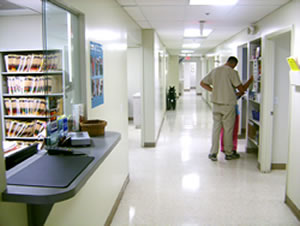 Advanced Care Medical Center is a quality emergency medicine, family practice and pain relief facility located in Ft. Pierce, Florida. Our physicians are committed to providing each patient with exceptional care and attention.
We are proud to be physician owned and operated since opening our doors in 2000. Our professional staff works together with you the patient to provide the highest quality comprehensive healthcare.
Our center  is one of the largest walk-in facilities in Ft. Pierce. We specialize in providing care programs for children, adults and seniors.We understand the need for consistent care and treat each patient like family. Our compassionate, professional staff is dedicated to providing the highest level of care possible.
For your convenience we offer on-site X-Ray, Lab and Ultrasound Services. This level of service commitment produces instant results for the best outcome.
We also provide Intravenous antibiotic therapy on an out-patient basis so that you can avoid hospital stays.

Health & Wellness Programs
Healthy Kids Program - as parents we know the importance of keeping our children healthy that why at Advanced Care Medical Center we recommend starting children on a wellness program right away and then just keep them healthy.
Healthy Aging Programs - for adults and senior focuses on helping our older adults live younger longer through weight control, pain relief and wellness medicine.
Pain Relief Programs - our program offers non-surgical options such as Nerve Root Block injections to address your pain at its source. Once the pain is gone, to help you stay pain free, at the end of your treatment plan, we will address nutrition, weight control and exercise.
Men's Health Program - picking up where proper nutrition and fitness leaves off, our comprehensive program provides testosterone treatments for male hormone deficiencies (andropause) as well as our proprietary male performance treatments for erectile dysfunction.
Skin Rejuvenation Program does just that: keep you looking your best at every age. By providing non-surgical wrinkle treatments such as Botox with face and lip fillers such as Restylane we can helping you look 10 years younger without the risk or expense of surgery. To further help maintain your youthful appearance, we offer D'Sha, our very own medical grade line of skin care products.
Physicians Weight Control Program - yes, we are what we eat but sometimes even if we eat the best of foods our body weight can creep up not to mention what bad food choices can do to our waistline and overall health, that's why at our office we take your weight seriously.  More than just a diet plan, our weight control program focuses on your body as a whole. Beginning with a Comprehensive Weight Control Workup including Computerized Body Fat Analysis, your dietary needs are determined and a Smart Eating Plan is recommended using our online EZDietPlanner & Fitness Tracker. To jump start your program we usually begin you with our Cleanse21 Program From our Phase 1 Featuring The Body Focus Cleanse21 Diet System followed by your very own Smart Eating Plan.
Because we are physician owned, we are patient driven. This means that we can focus more on providing excellent care, and less on the bottom line. We are not tied to any large medical corporations. We provide effective care that is responsive to the needs of the community of Ft. Pierce and Treasure Coast Florida. Give us a call at Advanced Care Medical Center at 772-461-1008.
Being physician owned means that our doctors are able to focus on You!