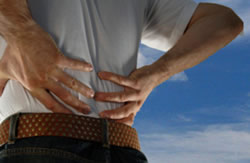 It's estimated that over 20 to 50 billion dollars is spent annually because of back pain each year and 8 out of 10 people will have a problem with back pain at some time during their lives...that's the bad news!
The good news is that there are now some effective, non-surgical medical alternatives for your chronic pain...even if you've suffered with it for years and tried everything else, relief is now just down the street!
That's right! Even if you've already seen several doctors, ranging from your family practitioner to quite possibly a physical therapist, chiropractor or orthopedic surgeon, we have a comprehensive back pain program that can help make your dreams of living pain free come true!
Introducing My Back & Neck Pain Relief Program
Developed specifically for back and neck pain suffers, the success of my program lies in the multi-directional approach to first addresseing your pain at it's source using treatment techniques that will help increase your physical activity and eliminate the use of addictive medications, then keeping you out of pain with lifestyle changes, diet and exercise!
This last part is of utmost importance because even though with treatment the pain subsides, if the pain cycle isn't broken, long-term pain relief will never be achieved. This is why my unique pain relief program beats popping pills hands down. In fact, in many cases many patients experiece a relief of their pain almost immediately!
Now I'd Like To Answer Some of the Common Questions I Get Regarding My
Back & Neck Pain Relief Program …

Q. Who Is The Best Candidate For Non-Surgical Pain Relief Treamtents?
Anyone suffering from any or all of the 8 causes of neck and back pain can be successfully treated with my non-surgical pain relief program. Additionally, auto and work injury victims as well as other joint pain conditions such as arthritic joint pain respond well to these forms of treatment. Whether your condition is new or chronic, our non-surgical pain relief treatments and injection therapy can not only help get you out of pain fast but can also restore function to the area!

Q. If I Am Presently Treating With a Chiropractor or Physical Therapist Can I Still Go For Non-Surgical Pain Relief Treatments?
Absolutely! In fact, many of our referrals come from surrounding doctors, including chiropractors. To help maximize the treatment, many times after I am finished performing an injection procedure, the patient is immediately referred back to their chiropractor or physical therapist while the numbing medicine is still working for spinal manipulations or massage (the temporary relief of the medicine allows the chiropractor or physical therapist to treat that joint more efficiently). So if you are already going for physical therapy, let me know; I will only perform injection therapy, and your therapist can continue with your rehabilitation program.
Q. Will You Communicate To My Primary Care Doctor My Condition and Progress?
As far as ongoing communication with your other doctors or therapists, it has always been my policy to keep the healthcare providers that are already working with my patients informed every step of the way about their treatment and progress while under my care. I do this by sending them periodic progress reports.
Q. Are The Treatments Painful?
Non-surgical pain management treatments are usually not painful. In the case of injection therapy, the area to be treated is first numbed and then the treatment is administered using a very tiny needle. Some patients may experience a slight burning sensation at the individual injection sites, lasting only a few seconds.
Q. Once I Am Done With The Treatments Will I Be Given Recommendations To Help Prevent My Pain From Returning?
As mentioned earlier, at the conclusion of your treatment plan, my assistants or I will provide you with a customized home exercise program to help maintain your pain relief! Additionally, to help prevent your condition from returning I also recommend lifestyle changes; for example, avoid prolonged sitting, maintain ideal body weight, exercise regularly, when performing any activity that requires prolonged or repeated bending at the waist (e.g. gardening), straighten your back and use proper body mechanics when lifting objects from the ground. These are just a few examples of the many ways you can help prevent future pain by paying attention to your activities
Q. How Many Treatments Are Necessary And Will My Insurance Cover Them?
The number of visits varies and is based on the severity of your condition as well as what treatment you are going to receive. Most insurance companies do cover physical therapy and spinal injection therapy that is medically necessary. For your convenience, I have the friendliest staff you will ever meet and they can help you determine whether your insurance plan will cover treatment. If the procedure is covered by your particular insurance company, they are all trained in handling the often-confusing paperwork that needs to be filled out if you are using your insurance. In the case of no insurance coverage, affordable payment plans are available.
_______________________________________________________________________________________________________________________
To learn more about our unique program and to order a FREE Information Packet simply give our office a call. To schedule a consultation with Dr. Shah click here