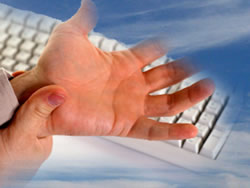 Millions of people every year are affected by chronic joint pain and think that the only way to stop it is with pain creams, prescription medications or as a last resort, surgery! Well, thanks to my non-surgical joint pain relief program you can get long lasting relief of your chronic joint pain...almost immediately!
Yes, it's really true!
My program is already helping people just like you return to their normal activities without having to contend with their miserable pain! Just think about what the possibility of long-term pain reduction and improved mobility could mean to YOU!
Think how great it would be to just wake up in the morning and go on with your day minus that annoying back, shoulder, hip, knee or hand pain!
Introducing My Joint Pain Relief Program
At our office, the first step towards living pain free begins with a one-on-one pain evaluation to discuss the history of your pain including past treatments and outcomes. I will also perform a lifestyle and diet assessment to help identify contributing factors to your pain such as certain activities, body weight and food allergies!
If after the initial screening I have determined that my program can help your particular pain syndrome, the next step will be to perform a comprehensive physical examination as well muscle and joint analysis to determine the source of your pain and diagnose the problem. If additional testing is required, such as x-ray or MRI, so that an appropriate Pain Relief Action Plan can be developed for you, at this time they will be ordered!
As I mentioned earlier, since diet has a strong influence on inflammation and joint pain, depending on your symptoms, a food allergy blood test may be also performed. You see, what I have found over the years is that many chronic pain sufferers unknowingly have allergies to certain foods such as dairy products, wheat, beef, yeast, and soy that can actually increase inflammation and pain! Therefore, this simple blood test could prove instrumental in determining your treatment plan. Remember, even healthy foods, if you are allergic to them, can cause inflammation!

Once the origin of your pain has been determined through the clinical evaluation and examination, specific joint relief treatments will be prescribed which may including trigger point therapy, anti-inflammatory joint injections and joint fluid supplements also known as Visco Supplementation Therapy. Exercise to help increase joint flexibility and muscle strength as well as The Eat Smat, Stay Fit™ anti-inflammatory diet are also given to help keep the pain away so you can enjoy long lasting relief! At the conclusion of care, a home therapy program will be given to help keep you maintain your level of correction.
_______________________________________________________________________________________________________________________
To schedule a consultation with Dr. Shah or to order our FREE information packet which explains our program in more detail click here